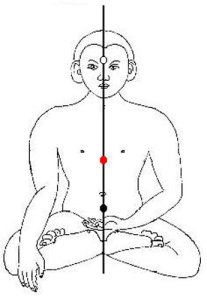 The Japanese Energetic System consists of three main energetic centers.
These energy centers are called The Three Diamonds.
The Three Diamonds correspond to the energies of Earth, Heaven, and Oneness of Heart.
The Location of the Three Diamonds
Earth Center: The Earth Center is located just below the navel. (This location is also called the hara.)
Heaven Center: The Heavenly Center is located in the head.
Oneness of Heart Center: The Oneness of Heart Center is located in the middle of the chest, in the heart area.
The Earth Center, also known as the hara, is the most important of these centers. This is where energy is stored and drawn from to expand throughout the entire body.
A Reiki practioner can train to link all three diamonds. This will create unity and balance.  In order do this, you must first develop the Earth Center because the Earth Center is the body's central axis point. It is considered the base of the pyramid of the body and where energetic strength is developed.
You may have met new age practitioners that focus energetically on building the Heavenly Center to develop their intuitive and psychic abilities, but do not focus on the other energy centers. This causes the practitioner to become unbalanced, which causes confusion and illness in their personal lives.
By re-establishing their connection to original energy through the Earth Center, one can ensure recovery from illness and continued good health. There will always be a reserve of energy to use when needed.
How to Balance the Three Diamonds with Reiki
This meditation is a favorite of mine. It is very simple and will help you to feel the energy of The Three Diamonds in your body and balance them.
REIKI EXERCISE TO BALANCE THE THREE DIAMONDS
Lie on your back.
Place one hand on your forehead (Third Eye Chakra/Heaven Center) and the other on your heart (Heart Chakra/Oness of Heart Center).
Maintain this position for 5 or more minutes.
Move the hand that was on your forehead to your lower abdomen (The Second Chakra/Belly Chakra/Hara/Earth Center).
Mantain this position for 5 or more minutes.
Move the hand that was on your heart to your forehead. Now you will have one hand on the forehead (Third Eye Chakra/Heaven Center) and one on the lower abdomen (Root Chakra/Hara/Earth Center).
Hold this position for 5 or more minutes.
The first time I performed this exercise I was amazed at how much I was able to feel the energy moving and balancing within my body. It rebalances my energy very quickly without fail. I hope it works as well for you!
Source: The Reiki Sourcebook